Are you living your dreams, or just living?
It's Time to Create The Life You WANT.
FREE 3-Step Guide Reveals How to Define What You Want Out of Life And Create A Plan For How To Get It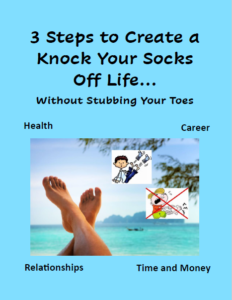 When you're busy balancing things like work, parenthood, a social life and more, it can be difficult to take some time to stop and take care of the most important thing, Y-O-U.
In my FREE guide, the "3 Steps to Create a Knock Your Socks Off Life", you will…
Discover what is holding you back from living the life that you WANT to be living. (These things might be easier to change than you think!)

Learn how to tap into your hidden potential to create the life you long for. (Yes, it's there but we're usually too busy to recognize it!)

Learn how to create a crystal clear vision of what you want (Most people ask "What can I do?" or "How can I do it?" These questions are actually obstructing all of the possible answers!)