Is Diabetes Ruling Your Life?
Is Someone You Love Having The Same Challenge?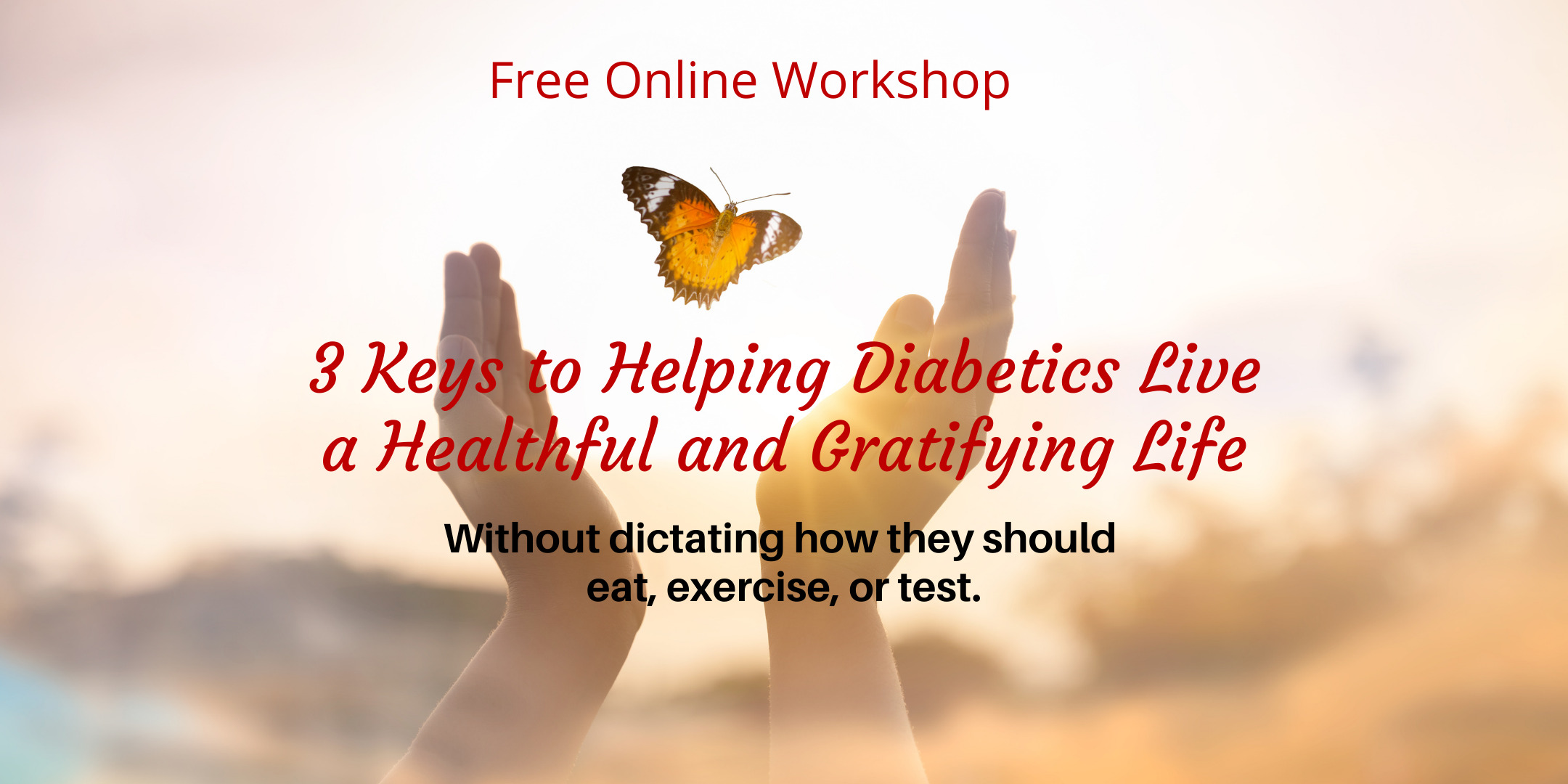 Saturday, November 6th at 10:00 am Eastern, register

Here.
Tuesday, November 9th at 2:00 pm Eastern, register

Here.
Diabetes can be a frustrating and complicated disease to deal with. But…
What if you could:
… Gain clarity on WHY your current strategy isn't working. (Stop blaming yourself. The reasons may not be what you think.)
… Learn 3 simple steps to create lasting success. (You can use these same steps to improve other areas of your life too!)
… Become a confident supporter for someone you love. (This could just be the information they've been missing.)
Don't miss this breakthrough, interactive workshop that will finally show you how to ignite new thinking to unlock your true potential and achieve outrageous success in mastering your diabetes.
Saturday, November 6th at 10:00 am Eastern, register Here.
Tuesday, November 9th at 2:00 pm Eastern, register Here.
Plus, when you attend the live event, I have a FREE gift for you that I know you will love. It's going to help you reduce stress, tension, and frustration and fill you with joy, vitality, and gratefulness. But you must be there to receive it!
This workshop is hosted by Lori Carbonneau, a certified transformational coach and TranscenDance™ facilitator. Diagnosed with Type 1 diabetes at age eleven, she uses the same tools that will empower you to live an energetic, fulfilling life.
 Her passion is teaching others diabetics how to unlock their true potential so that they can achieve outrageous success in mastering their diabetes, and living a life they LOVE!
Live Your Dreams! Vision Board Workshop
Most of us have fleeting ideas of what we want to be, to do or to have in our lives. So often, they remain just that: fleeting. After all, who has time to devote and deliberately get clear about the future we want and how we're going to attain it?
Well, lots of people, including Ellen Degeneres, Jim Carey, Oprah Winfrey, and Jack Canfield swear that they intentionally created outcomes by using a simple tool: Vision Boards. A Vision Board is a way to sell your own ideas to yourself, to anchor yourself to your dreams, and to allow the magic of manifestation to work in your life. Finally!
As someone who has made my own Vision Boards (and manifested some amazing results!), I've learned it's more than just slapping a picture onto a poster board. It's about first getting clear on your authentic life, letting go of what's in the way – and then clearly connecting with your dreams while designing a vision that calls to you.
That's why I am leading the LIVE YOUR DREAMS! VISION BOARD WORKSHOP…to give you the space you need to intentionally define your dreams and create a Vision-Board that will effortlessly attract your ideal outcomes to you!
In this full-day event, participants create their own Vision Board to help them manifest the dreams in their hearts.
Here's What You'll Get:
Clarity on what you really want. (No more settling for someone else's dreams.)
Space and time to map out your ideal outcomes in each area of your life.
Connection with like-minded peers. (No "Negative Nellies" permitted!)
A method to clear out the natural "gunk" that arises. (Time to let go!)
All the tools and time to create your own powerful  Vision Board. (You don't have to bring a thing. I've got all the materials you need!)
Your very own Vision Board to take home and employ, and to attract your ideal outcomes in the months ahead.
A full day of breathing room and dream-time. (The very thing you keep telling yourself you'll give yourself, but never do!)
This is an incredibly fun event where participants get to "let down their hair" and indulge in themselves!
Host your own Vision-Board Workshop! Invite friends, family and co-workers to experience a full day to focus on their authentic life and ideal outcomes! Contact Lori today!
Call or email Lori for more details for either workshop.